Bugler Foundation support Dacorum Community Trust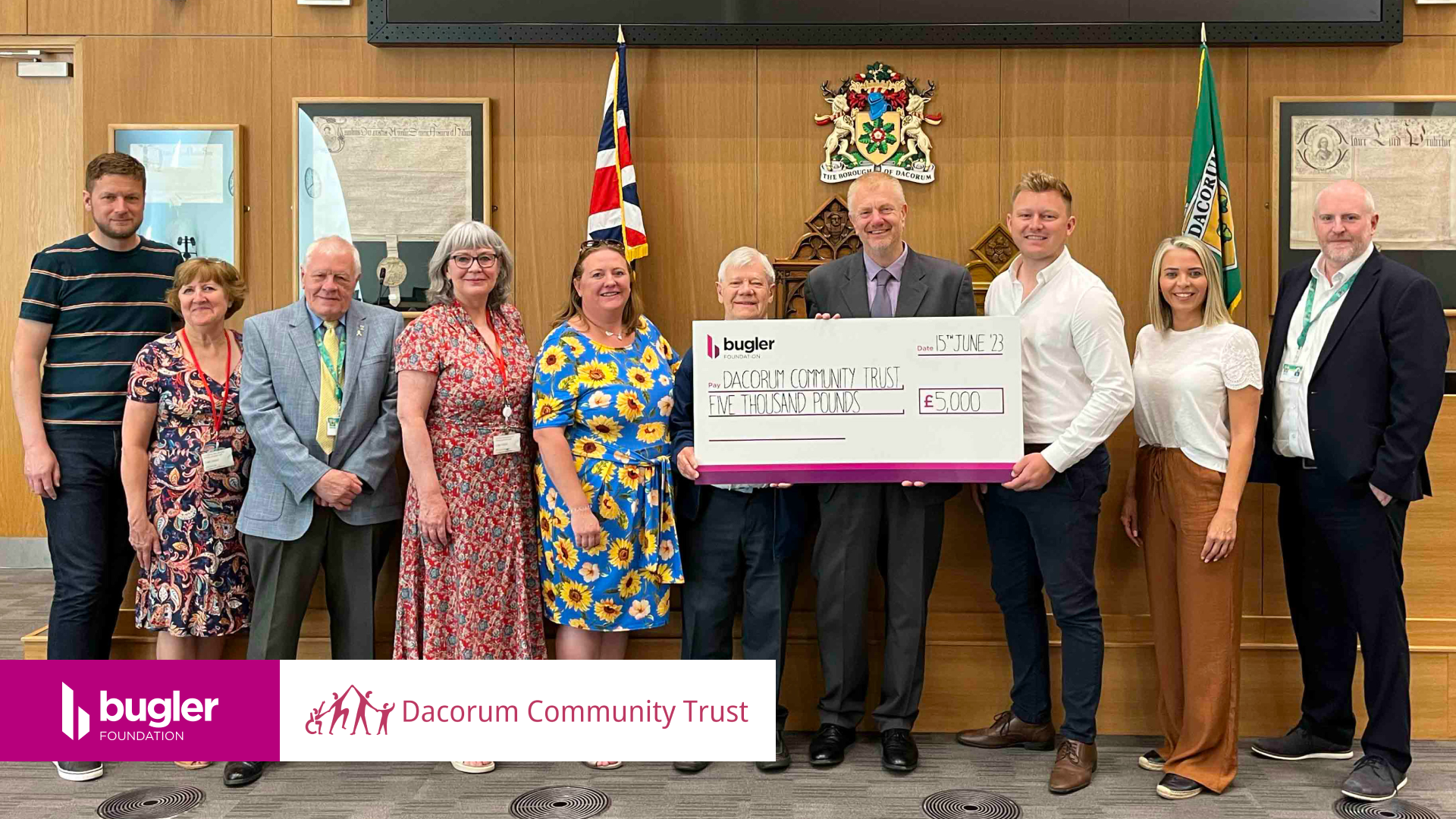 In June 2023, the Bugler Foundation was pleased to support Dacorum Community Trust with a £5,000 donation.
Dacorum Community Trust is a small, independent charity serving the Dacorum area since 1976. They provide practical support for local people in crisis, acting as a last resort when the assistance they need is not available elsewhere.
In the past month, they have received a record number of applications for their support and pride themselves on their quick, compassionate help.
It was great to be able to donate to the Trust, as part of Bugler Developments' social value commitments on our current Dacorum Garage Site projects, which are located across Hemel Hempstead and Kings Langley.
The Bugler Developments team, which included Jeremy Graham, Chief Operating Officer; Mitchell Cooper, Contracts Manager; Renata Almeida, Resident Liaison Officer; were joined by representatives from Dacorum Borough Council, including new council leader Cllr. Ron Tindall, David Barrett, Assistant Director – Strategic Housing and Delivery, and Gerard Brennan, Senior Project Manager, Housing Development. We were also joined by several members of the Trust including Tony Williams, Chairman; Trustees Paul Thomas and Claire Furnell-Williams: Manager Dena Tyler MBE and Rosemary Hall, Finance Officer.
Jeremy Graham, COO Bugler Developments said, "We have a long history of providing high quality affordable homes in Dacorum and through our social value, we always look to support the local community in ways we believe will be most impactful. Dacorum Community Trust are doing vital work within this community in helping those who require their support when in crisis. They should be proud of facilitating such worthwhile help where it is most needed, and we hope our donation will provide further resources for those they support."
Dacorum Community Trust said, "Dacorum Community Trust is very grateful to receive this cheque for £5,000 from Bugler Developments. At a time of heightened anxiety for many people struggling to make ends meet with rising costs of living, this donation will directly benefit many Dacorum residents in crisis, providing emergency energy and supermarket vouchers, essential household items, including cookers, fridge/freezers, beds and children's equipment.
All monies donated by local businesses are used by Dacorum Community Trust to support our local community. As one of our recent clients who was issued with an energy voucher commented:
"Thank you so much for helping us so quickly. I had nowhere else to turn. Now I have hot water and can cook a meal for my family.""
You can find out more about Dacorum Community Trust by visiting their website at: https://www.dctrust.org.uk/ or follow us on Instagram https://www.instagram.com/dacorum_trust/