Over the past 40 years, we have developed a distinctive focus on delivering high quality homes within London and the South East.
We have built wide ranging styles of developments from traditional forms of construction through to utilising modern methods of construction, including the use of Passivhaus standards and other low carbon innovations, to align our vision with that of the government's Net Zero Carbon by 2050 strategy.
We tackle each project with the same highly driven approach from concept phase to completion, whilst ensuring we continuously improve across the areas of health and safety, environmental targets and social value initiatives.
Our expertise also reflects itself in our company culture, where we have consistently maintained our Silver Investors in People accreditation. This is the result of continued hard work and commitment from our entire team.
We are also Living Wage employers, formalising this accreditation in 2019. The Real Living Wage is the only rate independently calculated annually and based on the real cost of living. All of our team are paid the Living Wage and this ethos extends to our subcontractors to ensure we support the supply chain.
Through providing a supportive and engaging place to work, our people are proud to work amongst a team that strives to provide excellence for all of our projects. See below for what some of our employees have to say:
All the Directors are about finding solutions, not problems. It's a big plus working at Bugler.
[Our managers] help you find where your strengths and weaknesses are, and they help you to progress.
I love my job. I like to take on a challenge. It makes your job varied. Variety is the spice of life!
I don't feel I ever want to leave. They help me grow, allow me to do that, and give me the support I need.
​At Bugler, we pride ourselves on the consistent delivery of a high level of customer care. We do this through an experienced and dedicated team who are at hand to offer support and reassurance to our clients and customers when needed most.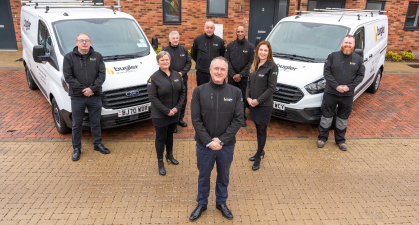 The health, safety and wellbeing of all of our people is vital. As a CHAS, ConstructionLine and Safe Contractor accredited company, our Health & Safety policies and procedures meet the highest national standards. These standards, for our teams, contractors and for the communities we work within, are continuously reviewed and updated across all of our sites – a process that has been particularly important throughout the Covid-19 Pandemic.
We also work with Safety Services (UK) Ltd who provide independent Health & Safety inspections and monitoring across the Bugler portfolio. To hear more about our partnership with Safety Services (UK) Ltd, please click here.
As an ISO 14001 certified company, we work closely with our partners to continuously review and reduce our carbon footprint ensuring we safeguard the environment for the future. Utilising the expertise of both our internal technical team and wider supply chain partners, we are always seeking to incorporate modern methods of construction to reduce carbon emissions across our projects.
We appreciate the impact of our construction activities and our commitment to sustainability also extends to the communities in which we work. At a recently completed development, The Woodlarks, an orchard was designed for the enjoyment of homeowners in addition to providing potential ecological benefits for the surrounding environment, with measures such as bee and bat boxes, insect hotels and over 25 different types of wildflower planting.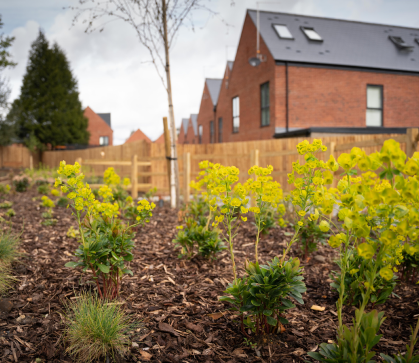 Bugler Developments recognises that our engagement on projects must deliver much more than physical improvements. We have the infrastructure in place to deliver a range of social value initiatives, from supporting charitable and voluntary organisations through to providing training, apprenticeship and employment opportunities, for the communities in which we work.
To demonstrate this commitment, Bugler are currently utilising the social value tracking and reporting software, Thrive, that allows us to detail the progress and status of each social value output and provide evidence of this to all those involved.  This software also allows us to integrate our social value initiatives in reference to the National Social Value TOMS measurement framework.
To further support our commitment to implementing social value, we created the Bugler Foundation in 2016. Through this, we dedicate 2% of our annual pre-tax profit to fund a wide range of worthwhile and local initiatives and causes, from mental health charities and support for the homeless, in addition to a range of community groups and events.
To find out more about our social value initiatives, and the Bugler Foundation, please click here.