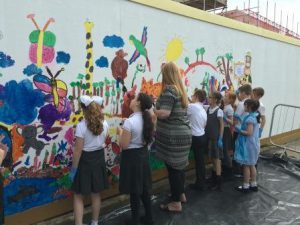 This development of 34 homes in Ware on a site owned by Network Homes was a former garage block. Bugler Developments were contracted to demolish the existing buildings and garages and build 2 three storey blocks and 2 two storey blocks.
This development, designed by Aros Architects, follows the construction of 3 smaller previous sites in Ware during 2016 for Network Homes, creating 5 houses and 43 apartments in total for sale, shared ownership and affordable rent.
The Cozens Road development provides a selection of one and two-bedroom apartments, some with their own private balcony.
The apartments at Cozens Road have been designed to meet Lifetime Homes standards and achieved many features of Code for Sustainable Homes Level 4 outside of required compliance.
As part of our community initiatives, we teamed up with the local primary school and Network Homes to take part in the Ivor Goodsite Hoarding competition and were pleased to be chosen as a runner up in this national CCS competition.
Feedback from a Network Homes new tenant said he is "over the moon with the flat" adding "he is the happiest he has been in a long time and the best property he has ever lived in!!!!"